3 January, 2016
Bacon-Chocolate Shot Glasses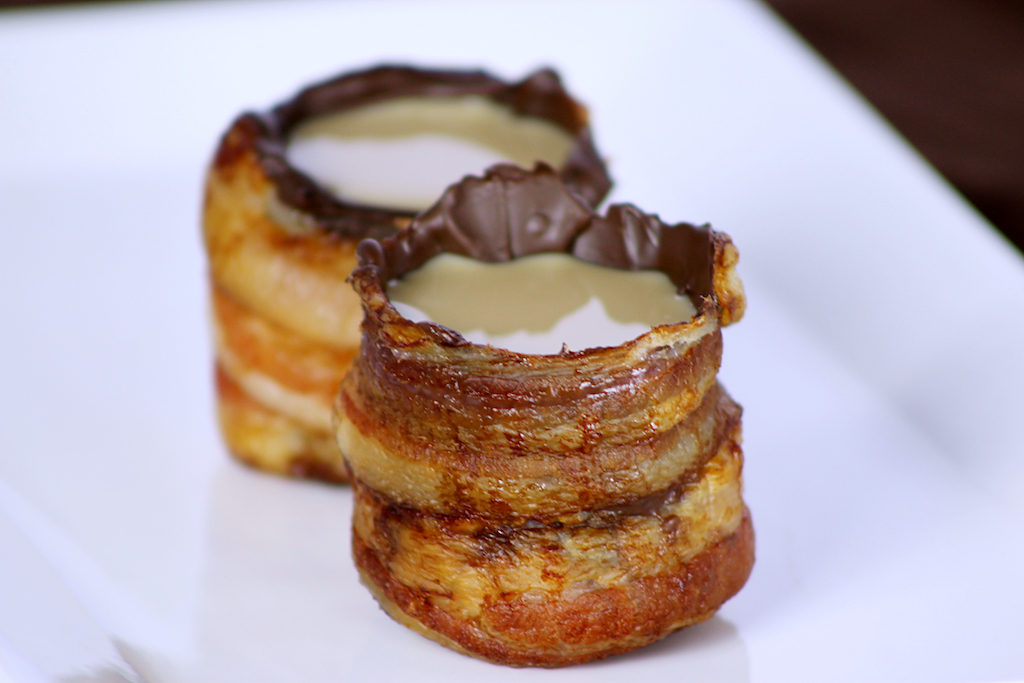 Comments : 16 Posted in :
Alcohol
,
Bacon
,
Chocolate
on
by :
Through The Eyes of My Belly
My first post! "Blogging" is relatively new to me, but here goes nothing!
I was originally looking for a way to share recipes and to store recipes of my own that would be around forever, or as long as I pay my hosting fee's :-). A good friend suggested blogging. I was a little intimidated at first, as I'm not super computer-literate, but this first post was actually pretty easy! A few pictures, a little writing, and VIOLA!
These fun "shot glasses" are a HUGE crowd pleaser. I mean, who doesn't like bacon-chocolate and booze?!?!
They may be a little tedious to make, and I'm still perfecting the recipe, but they are totally worth it if you're going to a party and want to bring something fabulous!
The first step is making something you can wrap the bacon around to cook it. I cut up the core of a roll of paper towels into about 3″ sections and rolled them up with tinfoil. Kind of silly, I know, but it totally WORKS!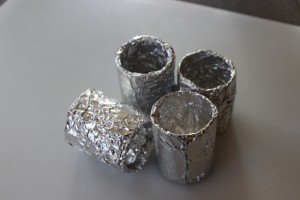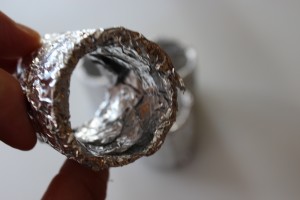 The next step is to wrap those with the bacon. I cut a few slices of bacon* into 4″ pieces to be used as the bottom (see picture below :-p). By the third one I made, I decided to make an "X" with the bacon instead of laying it across the bottom together.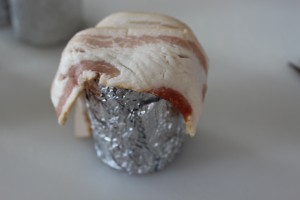 * I found its much better to use a thick cut bacon, as the regular bacon sometimes over-cooks and crumbles when you try to separate it from the foil mold!
Next, take a slice of bacon and wrap the tinfoil mold from bottom to top. Make sure there aren't any large gaps. Small ones are okay as long as you seal them well with the chocolate.
Once you have the bacon wrapped around the mold, tie it off at the top with a piece of twine.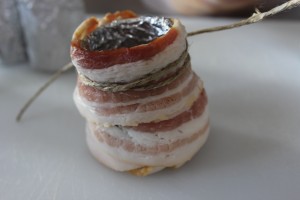 Now, the easy stuff! Place the bacon molds upside down on a wire rack and bake at 375 for 20-30 minutes, or until the bacon looks slightly crispy. Be very careful not to over-cook, as I mentioned before :-p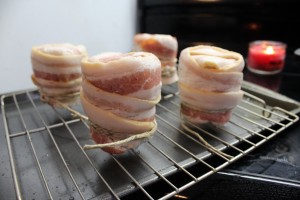 Remove them from the oven and let them cool for 10 minutes. To remove the bacon from the mold, lightly squeeze around the mold to free the bacon. Grab around the bacon with one hand, while pulling the tinfoil mold out GENTLY. This part is a little difficult, but after a few of them you'll have it!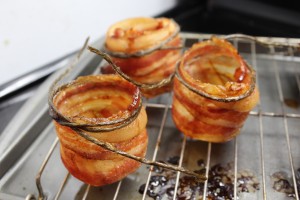 The final step is to create a barrier in the bacon so they can hold liquid! Super easy!
Melt some chocolate in a double boiler. With a spoon, scoop some melted chocolate into the bacon cups and smooth around the inside walls. Make sure to cover any small holes that you can see! Chill the bacon & chocolate molds in the fridge for no less than 1 hour. Remove them and fill them with a nice creamy booze drink! I used homemade kahlua and a little milk. You could even fill them with wine, because who doesn't like wine and chocolate?! Get creative with it!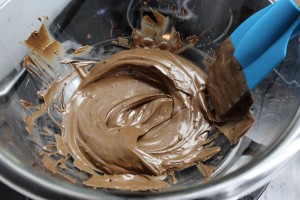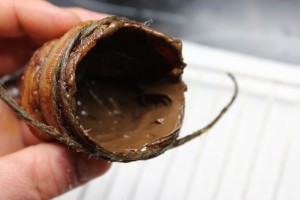 Thank you for checking out my very first post! Make sure to look up my Facebook and Instagram as well!
16s COMMENTS